Same Day Eyelet Banner Printing
Same Day Eyelet Banner Printing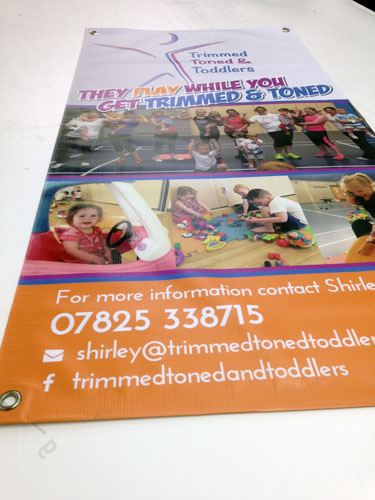 Trimmed Toned & Toddlers were looking a high quality PVC eyelet banner last month to promote their unique fitness classes. We were tasked with the design and print of an eyelet pvc banner and print it in record time. On most occasions we aim to provide next day eyelet banner printing, when the print is being collected from our South Shields factory but in this case we had it ready in a matter of hours.
What is considerably additionally intriguing is you can get a portion of the new year images uncommon new messages that are intended to wish your folks, mother or father.
This speedy turn around does not result in a lesser service. The customer even left us a great review on our Facebook page to thank us for our hard work.

We have invested heavily over the past few years in high quality machinery that prints faster than even machines just a few years old. This allows us to offer next day service and even some same day printing on a number of products including
– Business Cards
– Flyers & leaflets
– Posters
– Roll-up Banners
– Eyelet Banners
– Stationery
– Invitations & Tickets
Other products may be printed in record time but we will be able to advise this on an order by order basis. We'd love to chat to you about all your print requirements, so please do email us via the contact form or get in touch on 0191 4553703.
We are based in just outside South Shields town centre on Maxwell Street, so if you ever want to pop in and have a chat, this is no problem either.
We do lots more too…
If you require more information please call us on 0191 4553703 or click here to